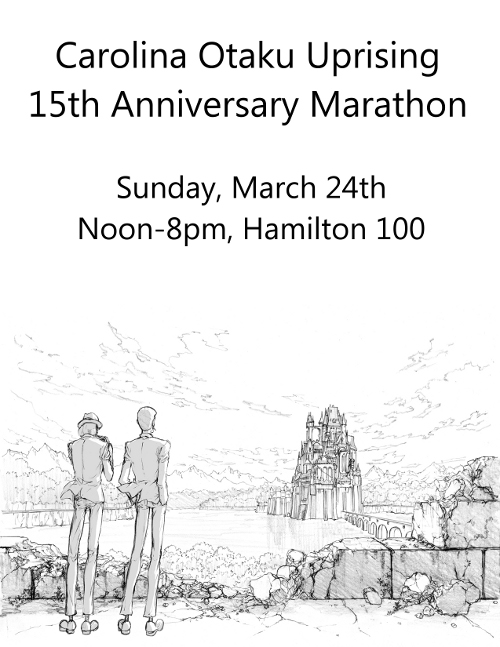 Howdy, gang. The Carolina Otaku Uprising, UNC's anime club, was founded in the fall of 1997 and really got rolling with regular scheduled meetings in the spring of 1998, so we're celebrating the club's 15th anniversary with an all day anime
marathon on Sunday, March 24th, from Noon to 8pm in Hamilton 100.
Here's the schedule:
12:00pm - Blazing Transfer Student
12:50pm - Prefectural Earth Defense Force
1:40pm - Assemble Insert
2:40pm - Flying Ghost Ship
3:40pm - Break
4:00pm - Otaku no Video 1
4:50pm - Here is Greenwood 1
5:20pm - Giant Robo 1
6:20pm - Castle of Cagliostro
8:00pm - Marathon ends and we start arguing about where to go get dinner
These are absolute favorites from the early days of the club, most of which are self contained and all of which are awesome. Most of these shows were screened at the club's 5th anniversary Re-Education marathon, to ensure ideological correctness among the otaku; now, a decade and two Five Year Plans later, it is time for all members of the Carolina Otaku Uprising to reacquaint themselves with the classics. We hope you can join us!
So, again: COUP 15th Anniversary Marathon, all killer, no filler, Sunday March 24th from Noon to 8pm in Hamilton 100. (If you're not not familiar with UNC's campus, drop me a PM and I can help give directions.) Be there! Drag your friends along! Party! Join us! Allegiance or death!